Woohoo. Been on board different ships and reading all the things that they have in their forum since I've finished going through most of the stuffs in the JYC chinese website and didn't have much things to do now. Well, its really interesting reading all the 'evidences' and speculations made on the different ships.
I must say that Hyoonies have good translators since lotsof stuffs there are translated from Korean to Chinese. There's quite alot of YEH related news there too. I registered there just to see what kinda concrete evidences do they really have but was quite dissapointed at the evidences. Maybe its because I didn't have enough post there. Like I mentioned in my previous post, if there's really strong evidences that Joo Ji Hoon and Yoon Eun Hye are a couple, I wouldn't mind them being a couple at all as long as Yoon Eun Hye is happy.
I registered with my usual nickname since there's no rule saying that I can't drop by there to take a look. Yes, I admit that I made quite alot of posts there as well, but I did it so that I could get to see better evidences which needed higher number of post since those evidences which I could see were quite limited. Besides that, I didn't even post any negative or snide remarks on the JJH-YEH chinese forum. All the comments I left there was true. JJH and YEH does have quite a few things in common and there were some sweet moments between them off screen. Sometimes after reading those post at the JJH-YEH forum, I would just smile and wonder how could YEH do that?!!?
Goong was the first Korean drama I watched and got hooked onto, so of course I would be curious about the couple as their on screen chemistry were really good. But well, I guess not everyone is so open minded about it.... I got banned from the forum just because they knew that I'm a JYC. Well, how great. Actually there's quite a few members from JYC.cn who are also members of JJH-YEH chinese websites as well and they even post news they got from other shippers on the JYC.cn forum and credited those news accordingly to JJH-YEH site. But JYCs are quite open minded about it and didn't make a fuss out of posting stuffs from other camps. Well, if you want, why not just ban all those people as well? Sigh, I just wanted to get to know more about YEH....I didn't even discuss all those stuffs I saw in the forum with other people or leak out anything , so there's no real harm done... The reason why I registered myself using my regular nick is because I don't think there's anything wrong with it. If I really wanted to spy and report my 'findings' or whatever, would I be so stupid to use back my usual nick?
Besides that, I'm a YEH fan, of course I'd like to know more about her, about her friends, private life etc. So after seeing the JJH-YEH thread, and also YEH soompi thread, it seems like there's lotsof stuffs I don't know about and those people at the thread seems to know YEH's personal life quite well. So I got more and more curious about it and I visited JJH-YEH baidu and realised that JJH-YEH forum is open for member recruitment. So I grabbed this chance and registered myself there.
Reading the stuffs on JJH-YEH chinese forum made me feel like watching Goong again. It bring back memories of the time where I was a JJH-YEH supporter. Their interaction on screen was so sweet and to add on, those BTS scenes of their interaction shows that they're both really comfortable around each other.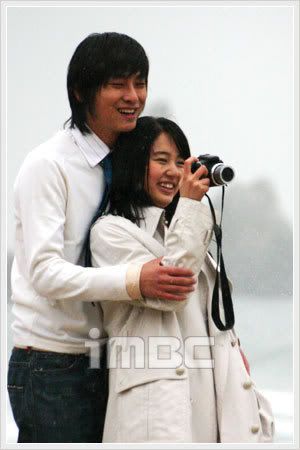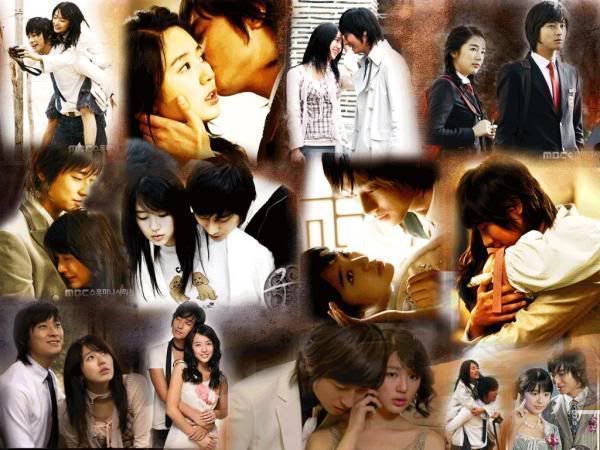 Sometimes I can't help but wonder if YEH is two timing. (Just Joking!) Of course she won't do that!
I think I'll watch Goong again soon....
I've also been back tracking on YEH soompi thread lately since there's really very little news and updates about YEH these few days. Its really interesting reading all the comments especially shipping comments. I still remembered when I first discovered soompi and YEH's thread, I was still more of a JJH-YEH supporter and I would be happy to read those evidences of JJH and YEH. Still remembered the incident of the picture YEH posted on her CY during KJK's brother's wedding. JYCs were claiming that the guy was KJK and compared the shirt KJK wore during Xman to the shirt of the driver, but in the end Hyoonies pointed out and proved that the shirt didn't match! I was laughing after seeing that the evidence was being dis-proved and I don't remember caring much when JYCs brought up another shirt of KJK and proved that the driver was KJK. But now when I backtracked at the forum, I'm supporting the other party and its really funny how my stand will greatly affect and influence my views and judgements. Its also amusing to think back and compare my stand current stand with my views in the past since both views are opposing and it's like a complete 360 degree change in my opinion.
Besides that, while backlogging, its funny sometimes to see that the post made by a person and the signature of a person doesn't match. There were people who was trying to make peace and they were basically middle person who does not belong to any ship. So their post will be like saying that they don't mind who YEH will end up with and they're okay with YEH being with either KJK or JJH. But when you read on, the signature of the people will show a banner belonging to a certain camp, so it ended up quite ironic.
I don't really know how the shipper thingy come about, but in the beginning of the thread, things were quite peaceful. Even though there may be some amount of shipping, they were more of discussions instead of arguements or shootings. Its quite fun to see 'evidences' being brought up by one camp, but shot down by another camp in the end. But as the thread procceed, people started to be stronger believers and each form different opinions and support different camps, so in the end, the healthy discussion turned into arguements instead.
Come to think of it, we're all fans of Yoon Eun Hye, so why do we have to fight and argue among ourselves? It seems so foolish to do so. I think situations are worse in Korea where those anti fans are really capable of doing anything to the celebrities which they don't like or support. That's the reason why its really hard for Korean celebrities to admit their relationship. We don't really see that happening in other Asian countries. Korean fans may just throw out criticism at the celebrity or even go all out to harm the celebrity physically. Cases which I know of include Mi Youn and Chae Youn. I think Chae Youn was attacked by netizens after she announced on Xman that she knew KJK for quite long and that she's a big fan of him. Mi Youn's case was quite long ago and I'm not really clear about it but it she was also attacked by anti fans I think because fans of her (rumored?) boyfriend did not like her to be with that guy.
Alright, enough said. All I wanna say now is
YEH FTW!
Peace. There's no point attacking and throwing insults at each other.
And since I'm already banned at the other camp, my journey of discovery will just end here... I'm still a JYC at the end of the day, but that doesn't mean I'm not open to any other evidences from other camp.
P.S there's no point in shooting me in the forum.
I don't wanna create a mess in the AF thread so I wrote this entry here. But dunno whether those on the other camp will read this.
I was really quite irritated after reading the posts on AF JJH-YEH thread, but after calming down and thinking about it, it seems quite silly to attack back.
And to all Hyoonies: I think JYC chinese forum welcome any member there so long as you don't post hurtful or negative comments there, so if you all want, you all can register there and take a look as well.
PEACE. And I beg you all to please stop those name callings and flaming of KJK... I know its JJH-YEH thread, but that doesn't mean that we can just criticise any other celebrities and say those hurtful comments about them. How would you all feel if people started criticising JJH? Its still an open forum afterall and anybody can just visit the thread the read the stuffs there. So if you all wanna criticise, maybe you all can do it in the
special
forum
dedicated to JJH-YEH?