Old news, but I only saw this recently....
Source: Mediacorp website
An operation to mend a torn ligament sustained during filming left Elvin Ng with more than just physical scars… The MediaCorp hottie shares with us in vivid detail his excruciating ordeal in this exclusive interview.
April 23, 2008
Kwok Kar Peng

A casual SMS to the MIA Elvin Ng a few days ago for any exciting updates churned up this reply:
"Does having a knee operation n limping around now qualify s exciting"
Eh… YEAH!
And so began our 45-minute phone interview, interspersed between his dental check-up. You've got to give it to this English Literature Honours graduate – he sure knows how to weave a fascinating tale of mishap, agony, and the epiphany…

The Mishap - "It was a freak accident."
It all started in December last year during the first few days of filming his latest drama Rhythm of Life (Bian Zou Qu) co-starring Christopher Lee, Jeanette Aw, Jesseca Liu, Dawn Yeoh, Julian Hee and Zzen. He performed a spinning taekwondo kick for a scene and his left leg landed badly, tearing his anterior cruciate ligament (ACL), an elastic band between the bones to limit the movements of the latter. Though injured, his physiotherapist reported that his condition was nevertheless stable and going under the knife was optional, not mandatory.
Towards the end of the filming schedule, Elvin returned to film the taekwondo scene that he didn't complete previously and although there was a body double and he only had to do simple actions, he aggravated his ACL injury.
"I was worried before the operation – should I do it, what happens if I don't?" He finally decided to go for the operation because "otherwise, I would have to live with the small problem for life and wouldn't be able to do action scenes."
Then came the crunch: "And I would have to retire from soccer!"

The Agony – "My soul left me for three seconds."
Industry pals like Felicia Chin, Dawn Yeoh, Nat Ho, Julian Hee, Jesseca Liu and Joanne Peh called and asked after him after his operation. While some couldn't visit because of work commitments, Joanne apparently couldn't make the trip because she was haunted by eerie spirits after a scary encounter overseas and shouldn't go to 'inauspicious' places like hospitals! (Mental note to pursue this story!) Supporters from his fan club Elvinology visited him in the hospital, a gesture that touched him greatly.
It has been one month since the operation and Elvin has been stuck at home watching VCDs, reading and sleeping 12 hours a day. He got off the crutches last week and has since hit the gym to work out his upper body. "Everything has been going uphill since the operation. It was the right decision," he said.
"But you know what the most painful part of the operation was?" he asked, his voice hinting at melodrama. 
"I had a full bladder 24 hours after the operation. I couldn't urinate no matter whether I sat or stood because the anaesthetic for the operation was so strong that it hadn't completely wore off. I forced it for one hour but the muscle still couldn't work! Finally, a male Indian doctor stuck the catheter there; it was like a fish tank pipe! I was fully awake and it was so damn painful! After that, I could at last, slowly, pee.
"The nurse told me I have to leave the catheter on until the morning when the doctor returns because they wouldn't know how to put it on again if I needed it. I couldn't sleep the entire night… I even bluffed the nurse that I had a stomachache and needed to take it off. She told me I should carry the urine bag to the toilet; I told her I don't need to do use the toilet anymore…
A Malay auntie nurse came in the morning to take it off. She said, 'Take a deep breath' and plucked the whole thing (read: catheter) out in one motion. For three seconds my soul left my body. The whole thing (read: the Ng's family heirloom) was on fire then and for three days later!" he recounted agitatedly, and I suspect, relishing it as well.
After such an intimate encounter, Elvin was hoping  the Indian doctor wouldn't know him, but "when you are in the hospital, you are just a patient not an actor, so there shouldn't be anything to be paiseh about," he huffed bravely.

The Epiphany – "Korean drama actors are so charismatic."
Two years in the acting industry and now's the first real break Elvin had. "I'm lucky to have had one job after another, but I only had output and no input then. Now I've time to digest what I've learnt and done," he told us.
"I realized that very often, people wish they could stop and relax when they are busy, and when they suddenly have free time on their hands, they complain that they are bored, have nothing to do and hope to be working. People are in a dilemma. This time round, I'm going to enjoy the moment and enjoy being free. When I'm busy, I'll be driven and hardworking rather than complain and wish I was doing something else."
Besides reading books on acting and playing Sudoku for the first time, Elvin has taken to watching Korean dramas like My Lovely Sam Soon to find out what the big K fuss is all about.
His profound conclusion after hours of 'research': "Korean dramas are so different from local and Hong Kong dramas. The attraction of K-dramas is that the plot revolves around the male leads, all of them arrogant, suave, charismatic and very well-dressed. That's the formula; the girl goes after the guy and the girls are the funny ones. Sometimes the male leads don't exactly look very gorgeous but viewers get drawn to their characters… Korean actors sure know how to 'electrify' and act 'shuai' (cool),"
Perhaps fans can look forward to seeing a cooler Elvin when he returns from his Sabbath in June - "I'm trying to learn the good things, like the male leads' natural charismatic air, overall screen presence and X-factor," but Bae Yong Jun will be wrinkly and spotted before Elvin becomes a K-drama fan because "romantic comedies are just not my cup of tea; I prefer tragic epics of how humans overcome great tragedies."
Elvin is also a reborn actor after experiencing a major turning point in his career while filming the long-form drama Kinship. He revealed, "The two years since I entered the industry was very tough and stressful. I'm not born to perform but I've now gotten used to the whole thing. It's like it's in my blood now. While I can't say I enjoyed it previously, I'm actually starting to enjoy my job now."
___________________________________________________________________________________________________________What he mentioned about Korean drama and actors are quite true. "Korean actors sure know how to 'electrify' and act 'shuai' (cool)," Besides the plot for Singapore Drama is so different to that of Korean dramas. Singapore seldom produce idol dramas, so those characters in Singapore dramas are not really dashing and "cool" like those in Korean dramas. Most local dramas don't allow the actors to act "cool" and charismatic. Usually, they just act a normal guy so that may make it closer to our real life, but that may lose the appeal for younger audiences who may prefer idol dramas. Thats why many younger audiences(including me) are turning to Taiwan/Korean/Japanese dramas instead.

Well, I do ocassionally watch local dramas if there are actress/actors that I'm more interested in who are casted in the show. And most of them are younger actors/actresses (eyecandies!).

Here are some pictures of local actor, Elvin Ng (黄俊雄). Yes, I think he's really hot and fine-looking (To top it off, he has a great bod too. Haha).

When he was talent-spotted on Hey Gorgeous. That was the time I noticed him too. I thought "this guy is cute!"  The show is about finding hunks and babes from various schools (Polytechnics and Universities) in Singapore. They found him when he was swimming in the pool =D.

He didn't win the contest though. I can't really remember who the winner was, but I think the winners for that show didn't really appear in other shows after that.

.
His first show
"A Life Of Hope"
活下去 as the purple haired "Beng" (Hooligan).I think that was the show which got him noticed. The character was a good one for him as the saying goes, 男人不坏,女人不爱 (Girls love bad guys). His acting was not that great on that show though. He was really stiff.
More pics of him from other shows and misc pics. 
With
Rui En,
one of the Singaporean actress I prefer.
With Jacelyn Tay.
With Jeanette Aw. 
(Elvin Ng, Jeanette Aw, Dawn Yeoh, Qi YuWu.)
With Jessica Liu
With Joanne Peh. When was this drama? I have no impression of it at all.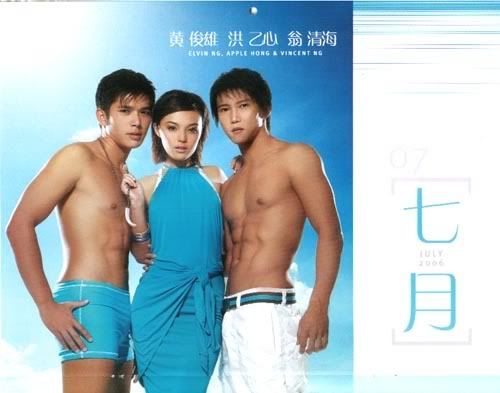 Elvin Ng, Apple Hong, Vincent Ng.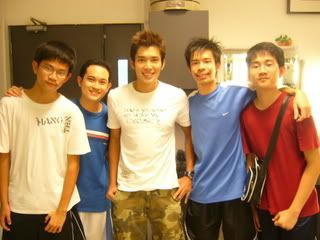 (pics from google image search,elvinology and friendster)
I think he'll be the upcoming
Ah Ge
judging by all the shows that he got to be starred in.